DurhamRegion.com
By Jillian Follert | 2.2.15
Premier says consent will be taught as early as Grade 1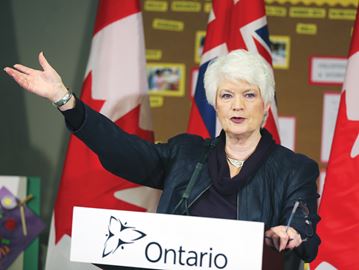 DURHAM -- Education Minister Liz Sandals is defending how the Province consulted with parents on its new sex ed curriculum, saying surveying one parent per school was the best way to get a range of opinions.
"There's no way that I can talk to two million parents," she said in a recent interview with Metroland Durham Region Media Group. "What we wanted to do was ensure that we had feedback that was a good sample."
Ms. Sandals says surveying a parent at every school ensured that all areas of Ontario were included, as well as all four school systems.
In November, about 4,000 Ontario parents were given a chance to fill out an online survey about the new curriculum, which will be implemented across Ontario this fall.
It asked parents to indicate how much they agreed or disagreed with statements such as "It is important that my child(ren) learn about expected changes during puberty before their bodies begin to change."
Ms. Sandals said preliminary information from the survey shows parents want their children to be taught information that is accurate and up-to-date.
The 1998 sex ed curriculum currently used in Ontario schools is the most outdated in the country and doesn't address current topics such as cyber bullying, same-sex relationships and sexting.
Informed consent is another area that is missing, but will be included in the new version, due to a recent request by Premier Kathleen Wynne.
She made the announcement Jan. 26, after meeting with two Grade 8 girls from Toronto who have lobbied for "consent culture" to be reflected in the new document.
The "We give consent" campaign has so far garnered more than 38,000 signatures on an online petition.
"The curriculum needs to teach what clear, enthusiastic, and affirmative consent is and what it looks and sounds like," reads an excerpt from the petition by Lia Valente and Tessa Hill. "We want health education that teaches our peers 'Yes means Yes.' That shares with our peers that affirmative consent is an enthusiastic 'Yes Please! between two people. We want education that shows us that there are many ways to say no. That educates young people that silence is not consent and that 'No means No.'"
Ms. Wynne said the new curriculum is expected to address issues of consent as early as Grade 1, by teaching students how to listen to each other and read facial expressions and body language.
"We need to make sure the informed consent piece of healthy relationships is absolutely crystal clear to both boys and girls," Ms. Sandals says.
In 2010, the Ontario government attempted to introduce an updated version of the curriculum, but shelved it after resistance from religious groups that claimed some of the content was too explicit for students in younger grades.
--------------------------------------------------------------------------